Yourminis is a web-based widget experience. The flash-based website allows users to customize a desktop-like environment with pre-built(or build-them-yourself) widgets.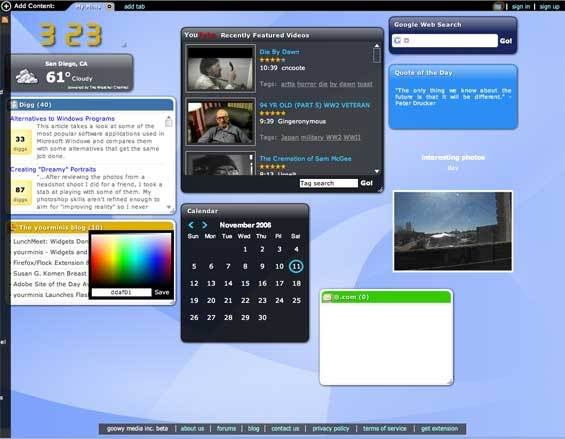 First time users are sent to a start up page that is filled with prearranged tabs for different subjects. In each tab you can customize the background and widgets. The widget database is currently on the small scale but growing rapidly. The basic necessities are supplied such as calender, notepad, clock, stock market analysis, RSS reader, sports watchers, email client, and other common widgets.

Some less popular categories are still lacking. More support is needed for blogs and constantly updated websites like howstuffworks.com, CNN, and other news sites. The site is fairly new, and the less supported customizations will take some time. Still for the average user it provides a good clean interface with a large amount of customization to fit your basic needs.
The tab option is great because it allows you to keep the pages un-cluttered and simplified. I keep about five tabs each filled with the appropriate widgets and RSS feeds. It will keep you from filling up your formal RSS reader with the sites that are not necessary.
Yourminis keeps everything really simple, and there are no actions that require much thought. Simply click what widgets you want and drag and drop on the grid. Some mail clients don't connect all the time but this is happening less and less.
Overall, Yourminis works great as a home page like any desktop widget without the memory overload. It performs like iGoogle but with a more modern and customizable interface. You should definitely try this one out.
Check it out at yourmins.com
post with your friends & family!